NEWS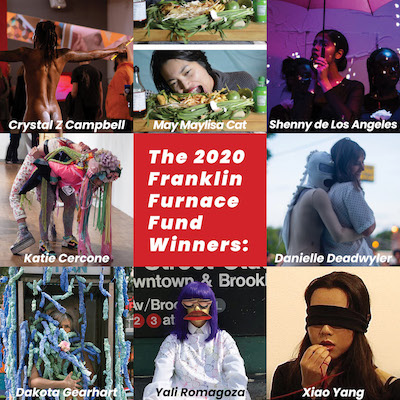 2020-21 Franklin Furnace Fund Winner
Tilt Podcast:
Liminality, Disembodiment, and Conspicuous Concealment
2020 c3:letterpress residency
2020 Glean Portland A.I.R.
2020 Chatauqua Visual Arts
2020 Labor Residency SFAI
November 2020

Panel: "Hanging on Every Word: Listening and Learning on Immigration Art", Intersect Chicago (formerly SOFA Expo). Nov 6, 2pm EST
October 2020

Franklin Furnace Fund awardee. Press release>>
Glean Portland Exhibition @ Disjecta, Portland, OR

Opening Oct 3rd

The United Exhibition @ Pittsburgh Glass Center, Pittsburgh, PA
September 2020

August 2020
July 2020
June 2020
May 2020
April 2020
Awarded the 2020 Chautauqua Visual Arts Residency Program.
Check out my participation as a Spa Thought Partner, on Spa Embassy, a social project that "facilitates access to bodywork for queer, femme, BIPOC, cash-poor folks, and those defecting from carceral whiteness as a radical act of decommodifying community healing."
March 2020
February 2020
02/21 - Performing at "Platform: Engaging the Ethics of Production and Consumption" at the Santa Fe Art Institute, NM, featuring Labor Resident May Maylisa Cat and Stacy Scibelli.
Platform events connect the making of art with the making of movement. Platform bridges art and social engagement with interactive works and participatory experiences co-created by SFAI staff and artists in residence.

January 2020
November 2019
Awarded The Career Opportunity Grant from the Oregon Arts Commission + the Ford Family Foundation.
Awarded The Emergency Grant from the Alliance of Artists Communities + Sam and Adele Golden Foundation for the Arts.
September 2019
Artist-in-Residence at the Pittsburgh Glass Center in Pennsylvania. September-December 2019.
August 2019
I'll be at Open Signal Fest on August 10, 2019 to do a performance called Semiotics of a Thai Kitchen.
Semiotics of a Thai Kitchen 4-5pm
A livestream workshop performance that captures the tools, social systems, and tropes of performative hospitality inside the art of constructing the globalized Thai food, by New Media Fellow May Cat.
July 2019
Special thanks to the Regional Arts & Culture Council for funding this new website!